Villa Zamorano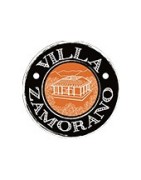 Honduran cigars Villa Zamorano, Maya Selva's newcomer - The best quality price ratio.
The creation of Villa Zamorano, Maya Selva's newcomer, is the result of an unparalleled challenge in the quiet universe of the cigar: Enable all cigar lovers to enjoy the luxury of a real smoke by offering them a "great basic", a cigar made by hand from noble tobaccos for the price of a machine made. Its name, referring to a prestigious valley in Honduras, also is a tribute to the creator's ancestors who have passed on passion for cigars and taste for constant widening cigar's horizon. Paradoxically, the development of a "great basic" also requires knowledge of the best puros. Product of imagination, encounter between Maya Selva's perfect control in cigar tradition and a man's know-how, the manufacturing director, this real cigar was born on the basis of a simplified fermentation process, a rationalized production respecting the essential principals and movements os the constant quality of leaves and blend, the rigor of construction, the long filler core, the tasty wrapper and the additional hand-made spirits. Like a great cigar, Villa Zamorano is a blend of whole leaves, hand-rolled. Also like a great cigar, it has a real identity when it comes to taste and smell: it is rustic, copious and expressive, with a perfect aromatic nature that exalts woody fragrances and suggestions of freshly cut hay, hazelnut and plants. Under the sobriety of a simple bunch of unbranded cigars, it offers the taste of a genuine tobacco without ornamentation.
More details...
There are 8 products.