Jose L.Piedra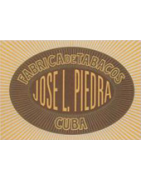 Cuban cigars Jose L. Piedra, accessible cigars and 100% hand rolled
The Piedra family, of Spanish descent like many tabaqueros, was established in Remedios, a small village in the Vuelta Arriba region. The José L. Piedra brand (after its founder's name, José Lamadrid Piedra) was registered in 1880. José Lamadrid Piedra's nephew, José Lamadrid Piedra II, took the lead until his death in 1942. In the 1950s, under the leadership of José Lamadrid Piedra III, the label sold especially well in the United States. After the trade embargo was declared, the company lost its main market, and the brand died. 
It was resuscitated in 1996 with a new concept that met with tremendous success : accessible cigars, with short filler, made with tobaccos from Vuelta Arriba and 100% hand rolled.
More details...
There are 5 products.