Saint Luis Rey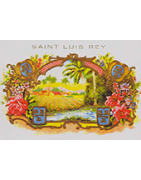 Cuban cigars Saint Luis Rey, rich flavor ranging from mild to medium

The name of the brand allegedly refers to San Juan, a village in the Vuelta Abajo. The brand was registered in 1940 by two English importers (Keyser & Silverstone). In 1960, Silverstone obtained a 30 year contract extension from the Cuban authorities for the distribution of the brand.

In the meantime,a brand distributed by Habanos under the name San Luis Rey could be found in Germany until 2000. Today, Saint Luis Rey is distributed all over the world. Known for their flavor ranging from mild to medium, these Habanos are hand made by experienced rollers, with most celebrated leaves from the Vuelto Abajo.
More details...
There are 3 products.
A beautiful Corona Gorda. The Série A has a vast and complex palette of aromas. On lighting up, aromas of cedar and spice develop. As the smoking goes through, the smoke gets denser and deeper. Power is never excessive, and the aromas move to sweeter cocoa notes. The construction is perfect. This a high-class cigar, typical of Cuban know-how.

More details...

Cuban cigars

Saint Luis Rey Série A

Box of 25 cigars

An extremely attractive cigar with a smooth chocolate colored wrapper. The cigars releases an ample and comfortable smoke in which one will be delighted to find a rich yet not too intense tobacco. The Regios is and remains a very pleasant choice.

More details...

Cuban cigars

Saint Luis Rey Regios

Box of 25 cigars or per unit

Add to cart

Saint Luis Rey Pacificos cigars were produced only for the Asia / Pacific market. Rolled with the best tobacco leaves, the Pacificos were produced in a limited edition of 4000 boxes of 25 cigars. Perfectly built, this Piramides is very elegant. Lighting is easy, and the first notes are rather sweet. Vegetable and woody touches are added gradually giving...

More details...

Cuban cigars

Saint Luis Rey Pacifico Asian Regional 2009

Cabinet of 25 cigars