Robert Caldwell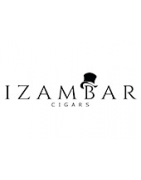 Cigars Robert Caldwell: Original, unconventional
Original, unconventional and very "designer", Caldwell offers cigars of great workmanship and unbeatable quality, whose creation will delight fans of beautiful vitolas.
The founder of the brand, Robert Caldwell, is not lacking in audacity: he puts himself in the frame with his own logo - relaxed, carefree and riding a penny-farthing! At Caldwell Cigars, trendy design and original names like "Long Live the King", "The King is Dead" or "Blind Man's Bluff" come with quality tobacco and interesting blends. They will delight cigar lovers in search of originality.
"The King is Dead" uses only Dominican tobacco. The Negrito wrapper gives the mixture a nice chocolatey creaminess. The binder is a Dominican Corojo. The filler contains a mixture of Corojo, Negrito and Habano HVA 2020, with a medium to strong flavour and a slight spiciness.
"Long Live the King" cigars, with a wrapper and binder, are produced in Dominican Corojo, while the filler is made up of Habano seco from Nicaragua, Pelo de Oro from Peru, and Corojo Ligero from the Dominican Republic.
More details...
There are 4 products.