Ramon Allones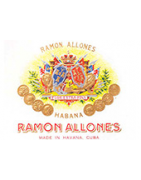 Cuban cigars Ramon Allones, a top of the range brand
Ramon Allones was founded in 1837 (but registered in 1845) by two Spanish brothers, Antonio and Ramon Allones.They were the first to start using decoration of the cigar boxes' interior. Those bright colorful designs are part of the artistic patrimony and are loved by cigar collectors.
The brand went through numerous ownership changes before it was finally bought by the Cifuentes family and production was moved to the famous Partagas Factory. The company owns outstanding land on vuelta Abajo. The cigars are manufactured at Eminencia, 129 Animas Street in Havana.Ramon Allones is considered as a rather "top of the range" brand.
More details...
There are 7 products.