Montecristo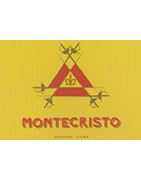 Cuban cigars Montecristo, the most appreciated cigar brand.
Montecristo is the best known and arguably the most appreciated cigar brand in the world. Benjamin Menéndez Garcia, the creator of the brand, knew how to adapt to the times. After his studies in an American university, financed by his uncle Pancho, he joined his brother in Havana. He worked with Parra which he took over in 1913, and renamed it Menendez y Cia. Both brothers led numerous initiatives, investing in oil production and in the creation of a cigarette factory among others. The Montecristo saga started in 1923, when Benjamin Menédez's uncle joined them and introduced them to an exceptional cigar roller. In July 1935, Alonso Menéndez purchased the Particulares Factory, makers of the popular Particulares brand and the lesser-known Byron. Immediately after its acquisition, he created a new brand named Montecristo whose credo would be luxurious sobriety in the presentation, and flawless construction. They met with tremendous success, and the Menéndez y Garcia company took control, little by little, of such prestigious brands as
H. Upmann
and
Por Larrañaga
. The names of Menendez,
Partagas
and Gener belong to the time of the great entrepreneurs in Havana. In 1955, the bishop of Havana blessed the factory. Alfred Dunhill, the London based company, contributed in the past to its popularity and to making it the most popular Cuban label. Today, the cigars have an unrivaled taste withe their unique blend of tobacco and their incomparable flavor. Montecristo is also extremely reputed for the consistency of its exceptional quality.
More details...
There are 44 products.