Cuaba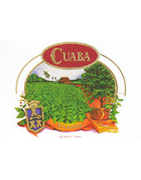 Cuban cigars Cuaba, outstanding construction and rich flavors.
Cuaba was first launched in London by
Habanos S.A
. on November 19th 1996. The name of this Habanos takes root in the language of Taino indians who were the first settlers on the island. It denotes the name of the indigenous shrub used by the natives for making torches and, in particular, for lighting cigars during religious ceremonies. This shrub still grows in the country. These Habanos, with a pleasant flavor and an appealing dark color, have the appearance of a torpedo, which is the reason why they are known as «Figurado». They are often presented in traditional boxes of 25 cigars or in box of 10 cigars.
More details...
There are 7 products.