Bolivar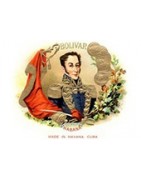 Cuban cigars Bolivar, popular Havana cigars, strong personality.
Simon Bolivar, a general and South-American political leader, is symbolic of the emancipation of the Spanish colonies in South America as soon as 1813. He had a definite influence on the independence of Bolivia, Colombia, Venezuela, Ecuador and Venezuela. In 1902, a century after his death, a Spanish entrepreneur in Havana paid a tribute to this south-American hero, and named his Habano brand after the beloved "Liberator". The tobacco leaf is a reflection of his strong personality. Today, these cigars are among the most popular ones especially the
Royal Robusto
. They are synonymous with a high quality and consistent production.
More details...
There are 10 products.