El Rey Del Mundo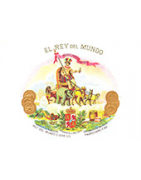 Cuban cigars El Rey Del Mundo, the great names of Cuban cigars
Believed to have been created by German businessman Emilio Ohmstedt in 1848, El Rey del Mundo (King of the World in Spanish) was at one time the most expensive and prestigious cigar brand in the world. Spanish businessman Antonio Allones,
Ramon Allones'
brother, took over the brand sometime around 1882. Antonio Allones was a brilliant but somewhat megalomaniac man. He became a member of the refusal front, an organization that brought together Cuban owners who resisted the American tobacco companies trying to develop their commercial influence on the island. In 1905, the brand was sold to the Diaz brothers, which they eventually sold to an American company. Like all others, the company was nationalized in 1960. The brand lost some of its prestige in the 1980s, but it sprang back to life thanks to the quality of its vitolas and the consistency of its production. These puros have distinctively floral and spicy aromas.. El Rey del Mundo remains one the great names of Cuban cigars.
More details...
There are 4 products.