Zino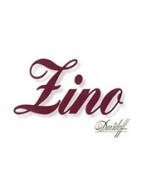 Dominican cigar Zino, the expertise of Mr. Davidoff, the myth of the cigar
Zino Davidoff left school when he was 20 and traveled all over the world to learn the ropes of the tobacco trade. He visited several tobacco farms between 1928 and 1931. During all these years, young Zino studied the tobacco production line, from the farm to the factory.
Back in Geneva, Zino Davidoff introduced into his father's store what is in Europe a revolutionary facility - a cigar cellar, the perfect way to store his high quality cigars under optimal climactic conditions.
The second World War started him off. Cuban cigar stocks were blocked in European harbours, and nobody was selling them. This is when Cuba offered Davidoff to take up the job. The Davidoff shop in Geneva became the center of
Cuban cigars
in Europe. Zino Davidoff was the sole authorized dealer of Havana cigars in Europe and was dubbed "Mister Cigar".
When the war ended, in a tribute to the great Bordeaux wines, Zino Davidoff created the remarkable "Château" line of cigars, which attracted widespread attention. People start talking about his "Grand Crûs" and everywhere in France his name became a symbol of exclusive enjoyment.. The Châteaux line was manufactured by
Hoyo de Monterrey
, a manufacture in Havana, and packaged for the tobacco seller in Geneva.
In 169, Cuba offered Zino Davidoff to create his own cigars instead of using Hoyo de Monterey products. This gave birth to Davidoff N°1 et N°2 and Ambassadrice. The 1000, 2000, 3000, 4000 and 5000 lines, exclusively manufactured in Havana, were added to the brand.
Davidoff enjoyed worldwide popularity, and his relationships with Cuban authorities were excellent, until the end of the 80s...
More details...
There are 6 products.